Marc Márquez says he was "a little nervous" on his comeback to MotoGP competition at the Americas Grand Prix, qualifying ninth as he "didn't believe in himself."
The Honda rider has won seven pole positions and seven races at the Circuit of the Americas, and was anticipated to make a successful comeback this week after missing the Argentine race due to visual issues caused by a horrific incident in Indonesia.
Marquez, on the other hand, could only finish ninth on Saturday, his terrible result in a COTA qualifying session.
He was on track to set a fast lap time that would have propelled him higher in the standings, but he backed out and acknowledges he was "fortunate" to even finish ninth with his "poor lap."
"I didn't believe in myself in the qualy," Marquez said. "During all weekend I worked very well, I worked nice in my rhythm, in my pace.
"But then in the qualy I go out, there was some traffic. Then I didn't want to push and then I didn't want to believe in myself.
"It was only my mistake. Also on the second tyre we had some issues, it was not just my mistake.
"We had some issues with the bike, so for that reason I was not able to push as I want and also I get confused and I think that I had one more lap with the second tyre.
"So, if you believe in you – for the front row it was not possible, but second row I think was my position there. But lucky we start ninth because it was my worst lap."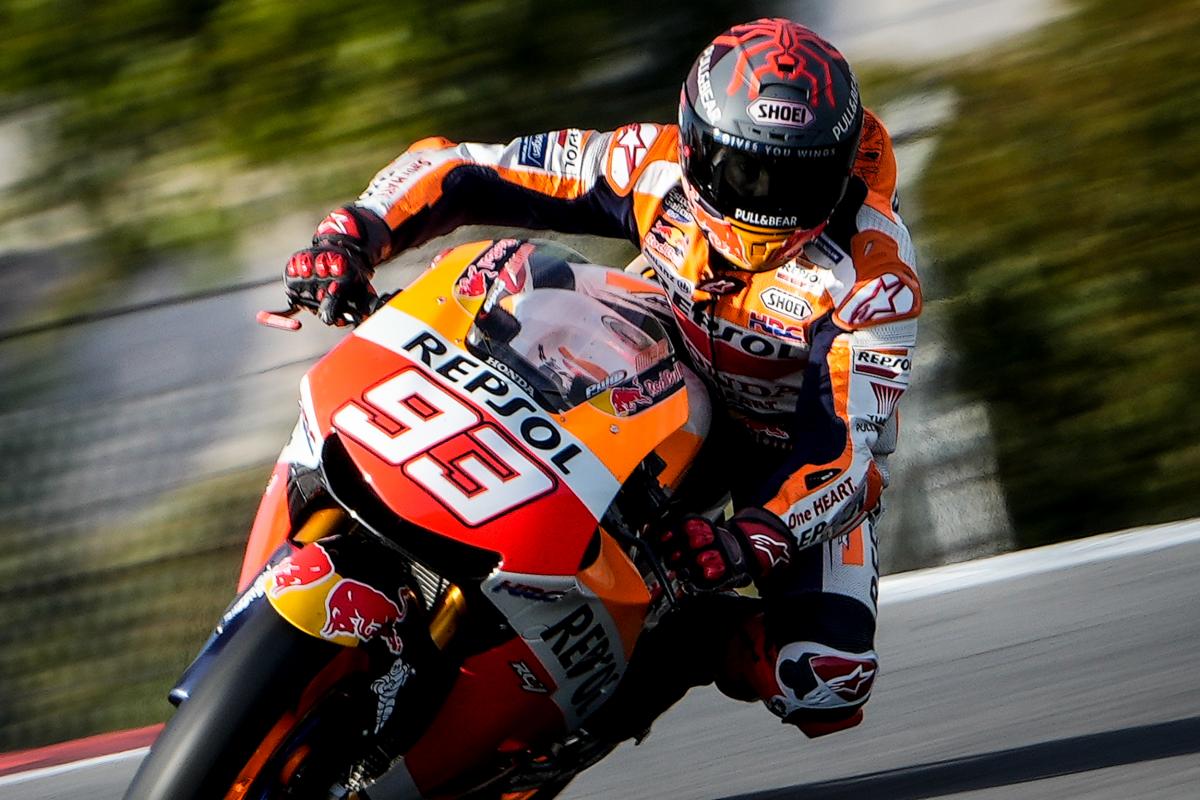 He additionally rejected that his qualifying problems were due to him missing one race and believes it's "normal" for "some concerns to arise" following his incident in Indonesia.
"Missing one weekend doesn't affect your speed," he added. "But it's true that it's a combination of many things. I'm coming from one of my worst weekends in MotoGP class, from the biggest high side, and all these things [affect me].
"It's true that on the race weekend, I said on Thursday, I don't have a good feeling.
"It's normal that some doubts appear in myself. I'm trying to get some confidence, it's true that in FP4 I rode well.
"But in the qualy when I put new tyres, I didn't feel it and I was a bit scared also, I didn't push as I want.
"I just did single different sectors. If you put the ideal time [together] I'm there.
"But everybody pushed in a different way. Anyway, it's not bad. I'm happy about the day and happy about the position."
After an accident in Q2, Yamaha's Fabio Quartararo, who will begin sixth, emphasised Marquez as the race's favourite.
The Honda rider, on the other hand, categorically rejected this, saying, "I cannot be the favourite."
"If you check, I did a very strange weekend but was the only way to survive all the weekend.
"I just pushed single laps [on Friday], single laps this morning [in FP3] and I just did a normal practice in FP4.
"FP4 is where I showed a bit to understand where my pace was.
"But in the warm-up I will do four, five laps and waiting for the race is the way I need to work now.
"But starting in ninth I can't be the favourite. I think Quartararo, [Francesco] Bagnaia, [Enea] Bastianini are the favourite."
Below are some of the most well-known MOTOGP riders' uniforms, all of which are available at reasonable costs. Visit our link now if you are interested in the racing clothing collection:
KTM, Marc Marquez, MOTO, Moto racing, Motocross, MotoGP, MXGP, Red Bull